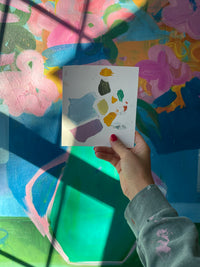 November arrived and we were off to the holiday season races launching new artists, massive group shows, and everything in between. At Well + Wonder we love this time of year! So y'all may be saying to yourselves "ladies, take a break this holiday week" and to that we say never! We are sending ourselves into Thanksgiving week the best way we know how and that, my friends, is by launching yet another fabulous Well + Wonder artist! Join us as we say, welcome Chelsea Hart!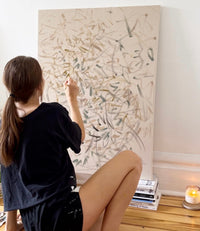 To our abstract lovers... we have a treat for you! We are so excited to introduce y'all to Elizabeth Marin - a Charleston gal that is the latest to join the Well + Wonder crew!
⁠
Elizabeth is an expressionist painter. To her, painting is a tool for self-discovery and expression. Elizabeth's work explores the commonality between beauty and imperfection. Among many things, she is inspired by blooming flowers, unexpected composition and colors, good design, and the feeling of springtime. Over the years, her work has depicted nature; including blossoming magnolia flowers and coastal seascapes. Recently, she has been exploring abstraction through collage and painting on raw canvas. Self-taught, Elizabeth discovered painting as a career after moving to Charleston, South Carolina and seeing first-hand the thriving artist community around her. 
Have you heard the good news? Kendal Blanchard is the latest artist to join the Well + Wonder collective. Hooray! Kendal's debut collection will load onto our gallery walls Monday at 1 p.m. but until then we thought we should formally introduce this talented lady. Louisiana born artist Kendal Blanchard passion for creativity emerged early in life with the immense encouragement of her family. Having a love for both creativity and children, Kendal split her academic time in college in both the arts and education which eventually led her to a career in education.