Happy Monday, friends! We are excited to introduce you to a new artist joining the Well + Wonder
 crew! Meet Maggie Perrin-Key! 
Maggie lives and works in Roanoke, Virginia, a mountain town where she is inspired by living so closely with nature. She received her BA in Studio Art from Hollins University in 2017, and has maintained her studio practice since. Maggie began painting murals professionally in 2019, which changed how she thinks about space and sculpture, and greatly the way she paints. 
Originally from Corpus Christi, Texas, Ashley received her Bachelor of Arts degree from The University of Texas in Austin in Art History. She, her husband, and three children now reside in Jacksonville, Florida.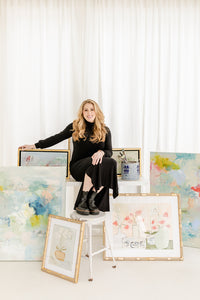 We are SO excited to officially introduce Alice Caudill to our Well + Wonder 
community! Alice is a self-taught artist from Murfreesboro, Tennessee who began painting at the start of the COVID-19 pandemic as a creative outlet while being at home with her two little boys.⁠