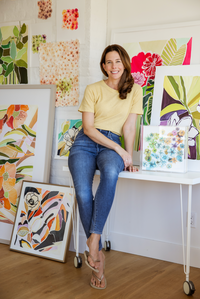 Kristin Durham
STUDIO
Kristin works from home in the 'art room' that she shares with her two kiddos. Work also spills out into the dining room and a small barn where the light is amazing.
MEDIUM
Watercolor, gouache, collage and resin on paper or wood panel.
BIO
Kristin Durham is a creative director and fine artist with a passion for the creative process. After spending almost 20 years working with lifestyle brands, Kristin found herself back behind the easel, once again, creating vibrant floral collages inspired by the south, where she is originally from. She combines collage with watercolor and gouache to enhance their bold pigments and to create texture. Kristin is a graduate of Auburn University with a focus in painting. After college, she made her way west and now resides in San Rafael, California, just north of the Golden Gate Bridge.