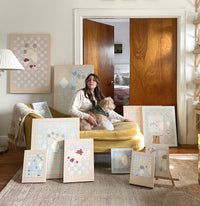 June Upton
STUDIO
A quirky home studio found off of the kitchen in her Brooklyn Apartment.
MEDIUM
Gouache, Graphite and Acrylic
BIO
A student of stillness, June Upton finds magic in capturing a moment that will tell a story in the present and for years to come. She is enamored by the narratives that mundane objects present and likes to explore how these items comfort and define who we are. June uses subtle textures, concrete shapes and neutral pallets to compose an array of still life vignettes. She trusts the nature of these paintings to provide a sense of quiet and calm to the viewer's mind, striking a balance between contentment and the chaotic energy of everyday life. 
June started her career with a fine art scholarship to Mississippi State University's School of Architecture Art & Design, where she received a Bachelor of Fine Art with an emphasis in graphic design. Shortly after her undergraduate experience she accepted a spot in Pratt Institute's graduate Communication Design program in New York, where she received a Master of Science in Communication Design.