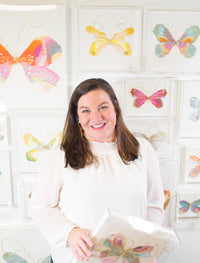 Elisabeth Hays
STUDIO
My handy builder husband just recently finished a studio space for me at our home. It has a large double window that lets in tons of natural light and overlooks Mobile Bay. 
MEDIUM
Mixed media, on paper
BIO
Growing up in Fairhope, Alabama, Elisabeth Hays stayed inspired by the creative energy found in her small town. With a background in Interior Design and a love for pattern & color, Elisabeth aims to bring a classic yet whimsical approach to her art. Mobile Bay & its natural curiosities have been a constant source of influence in Elisabeth's work. This can be found in her color palettes and mark making, which are often a nod to the vibrant southern sunsets & ever changing waters. Elisabeth resides in Fairhope with her husband, William, their two children, Mary Crider and Sam, and their white Golden Retriever, Grits.