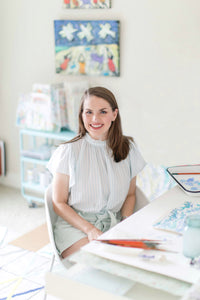 Eden Flora
STUDIO
Eden paints from her aqua filled home studio overlooking her backyard filled with little boy toys.
MEDIUM
Mostly gouache with a splash of acrylic, watercolor and india ink.
BIO
Eden Flora grew up in Mobile, Alabama and officially started her business in 2013. As an experiential learner, she finds she learns best when she creates an experience for her ideas to be searched and pondered. She loves learning about God through creating and teaching what she discovers.
Eden received a BFA in Fabric Design from the University of Georgia and a MPS in Art Therapy and Creativity Development from Pratt Institute in Brooklyn, New York, her favorite city. She is a Registered Art Therapist as well. Eden resides in Oxford, Mississippi with her very loving and very tall husband and two precious sons.