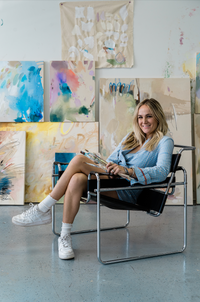 Caitlin Shirock
STUDIO
Caitlin works in a shared warehouse about 20 minutes from her home. She describes the space as a a place where she can get messy and paint big. A good place to dream and focus. 
MEDIUM
Acrylic, soft pastel, pencil on raw canvas
BIO
Caitlin Shirock a Michigan native and Nashville local often describes her work as whimsical, mysterious, energetic and dreamy. Caitlin's work allows you to enter a world all your own and dance freely in all of the elements. After earning a degree in fine art and working for large brands that included Abercrombie & Fitch, Betsey Johnson, and Oscar de la Renta, Caitlin began searching for a way to create art in a way where she could actually SEE the customer engage with the final product once it was completed. It was these experiences that inspired her to start her own company. Caitlin's primary goal is to create original artwork for people's homes that will bring them joy.